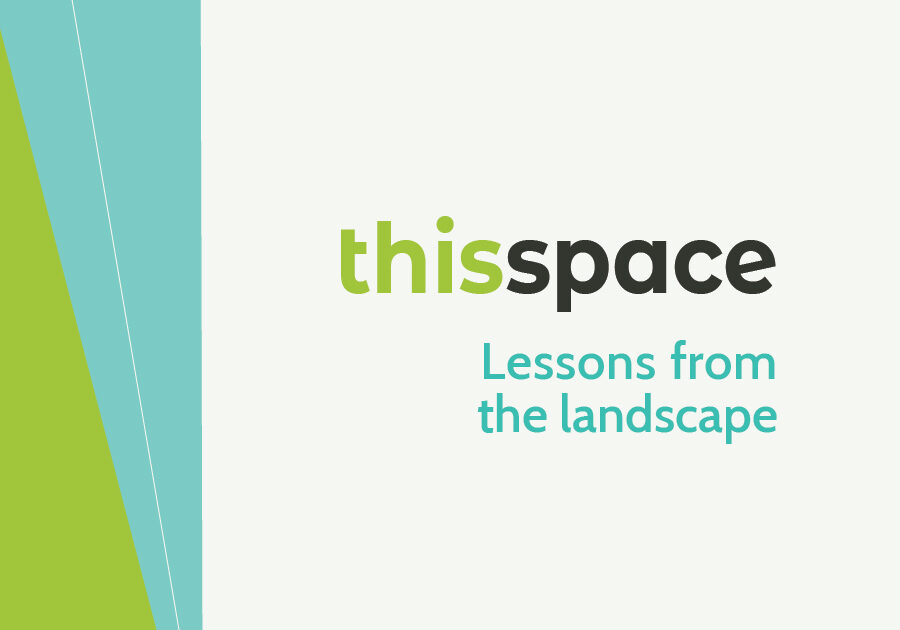 ArtsPond, Groundstory + Roseneath Theatre presents
This Space: Lessons from the landscape 
Facilitated by Jessa Agilo (ArtsPond) and Ashley Proctor (Creative Blueprint)
October 27, 2020,  12 noon to 2 pm Eastern
Register (Zoom)
Cities are under pressure around the globe. The lack of accessible housing and workspaces has reached a crisis point as artists and other low-income communities struggle to survive the rapid, inequitable forces of neighbourhood change, gentrification, spatial precarity, and displacement.
On October 27, learn how to respond to gentrification and boost access to affordable artistic spaces for the public good with lessons (and guest speakers) from Canada, USA, and Europe.
This free webinar celebrates the publication lauch of ArtsPond + Groundstory's What Space: Spatial precarity, gentrification, and the arts, a three-year research report on the roots, ripples, and responses to gentrification in the arts in the Greater Toronto to Hamilton Area and beyond.
An international panel of social purpose real estate experts also explores an array of solutions to the spatial precarity and affordability crisis now and into the future, including community land trusts, mutual aid networks, youth-led urban design with and for equity-seeking communities, and more.
Panelists include:
Created with the support of Canada Council for the Arts, Ontario Trillium Foundation, and Government of Canada.
Please note this event was incorrectly advertised in our newsletter as October 20. The event is taking place on Oct 27.
FACILITATORS
Jessa Agilo (ArtsPond, Toronto)
Jessa Agilo is an integrated arts creator, producer, educator, changemaker, and social entrepreneur with a three-decade career in arts and culture. As founder of ArtsPond, she has lead ground-breaking efforts to address gentrification (Groundstory), digital transformation of arts services (DigitalASO), COVID-19 response (I Lost My Gig Canada), the design of open source arts management software (Hatch Open), platform cooperatives (Artse United), creative land trusts (Groundtrust), and more. She was recognized with the Humberto Santos Award in Business and Administration in 2006 and Toronto Arts Council's Leaders Lab in 2019.
Ashley Proctor (Creative Blueprint, Toronto, Vancouver & Seattle)
Ashley Proctor is an artist, social entrepreneur and community organizer.  Ashley developed the Xpace, Creative Blueprint, Foundery, and 312 Main coworking, creative and cultural spaces in Toronto, Vancouver, and Seattle. Ashley co-founded the Coworking Toronto and Coworking Ontario collectives, and she created COHIP — the world's first Coworking Health Insurance Plan — for all artists and independent workers across Canada. Ashley is in her element while creating the conditions for meaningful connections, sustainable development and social change. For the past 17 years, her company Creative Blueprint has inspired a global network of catalysts and change makers, working in partnership with neighbourhood residents, community groups, unions, collectives, developers, policy makers, activists and all levels of government to build bridges and shape our new collaborative landscape.
PANELISTS
Elise Antoniadis and Darian Razdar (Reflex Urbanism, Toronto)
Reflex Urbanism is a collaborative partnership between Elise Antoniadis and Darian Razdar. Reflex's work is situated at the intersection of community organizing, urban research, and creative engagement. The studio develops justice-oriented strategies to envision a new urbanism that values community self-determination, mutual aid, and consent within a model of transformative change. Reflex is currently undertaking a new project called the Reflex Artist-Run Co-operative Pilot Program that is to launch in Spring 2021. This project will gather young Queer and Trans Black, Indigenous, and POC (QTBIPOC) artists and independent cultural workers to collaborate on a six-month-long mentorship and visioning program. 
Yves Blais (Creative Land Trust, London, UK)
Yves has worked on delivery of the Creative Land Trust project since its inception, which looks to secure and protect affordable studio space for artists in perpetuity in London and around the UK. He has experience advising and brokering opportunities in the property sector for affordable workspace provision that reflect and are responsive to local community needs. He is a trustee at art commissioning and production charity Forma, and through his work as a producer and curator on public programmes across the UK, he understands the importance of cultural infrastructure and creative production support in our urban centres. 
Joshua Brandt (Parkdale Neighbourhood Land Trust, Toronto)
Joshua is Executive Director of Parkdale Neighbourhood Land Trust, a nonprofit, community-based organization that acquires land for affordable housing, supportive housing, and community economic development in Toronto's Parkdale neighbourhood. He is co-founder of the Canadian Network of Community Land Trust. He previously worked as a Community Liaison Officer coordinating a community benefits agreement as part of the Lawrence Heights Revitalization. Earlier, he served as Communications and Campaign Consultant for the Right to the City Alliance in New York City He holds an MS in Design and Urban Ecologies from the PArsons School of Design at The New School.
Cheryll Case (CP Planning, Toronto)
Cheryll is the founding principal of CP Planning, an urban planning firm that digs deep into addressing the urban conditions that affect access to housing, work, and play. She specializes in designing for inclusive conversations that build relationships between various industries within the non-profit, private, and public sectors. Since graduating from Ryerson University's Bachelor of Urban and Regional Planning in 2017, Cheryll has been a driving force in the public discourse on community planning. She has developed partnerships and conducted work with a wide cross-section of institutions and community members. The Ontario Home Builders Association, the Residential Construction Union, the Toronto Regional Board of Trade, have sought her services, as has local affordable housing developers, Evergreen, and the Laidlaw Foundation among others.
Moy Eng (Community Arts Stabilization Trust, San Francisco + Oakland, CA)
Moy Eng began her career in New York City, fundraising with the Alvin Ailey American Dance Theater and the Orchestra of St. Luke's, and has worked for over three decades as a senior executive in arts and culture, renewable energy, and human rights.  At the center of her life is art, supporting artists and making artworks as a poet, songwriter and vocalist.  By day, Moy serves as the CEO of Community Arts Stabilization Trust (CAST), San Francisco‐based real estate development nonprofit dedicated to creating permanent affordable housing and workspace for the arts and culture sector in one of the most expensive cities to live and work in the world. Only seven years old, CAST has already been cited as a creative placekeeping model by civic and cultural leaders in Amsterdam, Austin, Denver, London, Paris, Seattle, Sydney, and Vancouver, among many others, and in publications by the World Cities Culture Forum and Federal Reserve Bank of San Francisco.  By night, Moy is a writer and vocalist.  She recently released her first recording, the blue hour, co-produced with four-time Grammy Award nominee Wayne Wallace, to critical acclaim and international airplay. 
Kendra Fry (Creative Collisions / Faith and the Common Good, Toronto)
Kendra Fry had a long career as a General Manager in theatre before beginning her work creating multi-sectoral community hubs for the common good. Working across Canada, Kendra unlocks the hidden value in faith building sites, creating broad cross-sectoral community centres that involve the arts, housing, food security, education and many other not-for-profit organizations. Kendra is the author along with Milton Friesen of "No Space for Community; An in depth look into the loss of infrastructure due to faith building closures in Ontario", which can be read at www.communityspacefaithplace.org. You can see some of her projects at www.creativecollisions.org. 
Sally Han (Economic Development & Culture, City of Toronto)
Sally is Manager of Cultural Partnerships unit of the Arts & Culture Section, Economic Development of Culture at City of Toronto, including the grants portfolio, public art, and cultural development. Past roles include Senior Cultural Affairs Officer and Cultural Development Officer at City of Toronto, Arts Consultant at Department of Canadian Heritage, Manager of Arts Policy Development at City of Mississauga, and writer and producer at CBC Radio. She holds a BA in Drama and Political Science from University of Toronto.
Maggie Hutcheson (Build a Better Bloor Dufferin, Toronto)
Maggie Hutcheson is a community-engaged artist, educator, curator, consultant, and Co-Chair of Build and Better Bloor Dufferin. Over the past 15 years she has collaborated with other artists and Toronto residents to animate oral histories of war, gentrification, homelessness and migration. Maggie has worked with a range of arts and non-arts organizations, including the CBC, Jumblies Theatre, MABELLEarts, Toronto Arts Foundation and York University. In 2011, she co-founded the award-winning Department of Public Memory, an arts collective that commemorates overlooked public institutions in Toronto. Maggie authored the Ontario Arts Council's recently published handbook on best practices in community-engaged art, has extensive teaching experience and holds a PhD in Environmental Studies.
Lori Martin (Economic Development & Culture, City of Toronto)
Lori is the Senior Cultural Affairs Officer at the City of Toronto and an urban planner. She has worked on the adaptive reuse of heritage buildings for cultural use such as the Artscape Wychwood Barns and Evergreen Brick Works. As part of the Economic Development and Culture team, Lori develops cultural plans, negotiates Section 37 agreements, and implements accessible/affordable housing and workspaces projects for the cultural sector. Lori is committed to increasing creativity in the places where we live with the goal of developing new ways to stimulate regional prosperity by leveraging the connections between culture, economy and place.   
Brian McBay (221A, Vancouver)
Brian is Executive Director of 221A, a non-profit organization that works with Artists and Designers to research and develop social, cultural and ecological infrastructure based on the unceded territories of the Musqueam, Squamish and Tsleil-Waututh first nations in the city known as Vancouver. As a student Co-founder of 221A during the height of the 2007-08 global economic crisis, he is part of a new generation of leaders in the cultural sector aiming to reverse deepening inequality, xenophobia and colonialism in Canada. In addition to his role at 221A, he was named a 2018 Fellow at the Salzburg Global Forum, and is currently the President of the Pacific Association of Artist Run Centres, a member of the City of Vancouver Arts and Culture Advisory Committee, a member of the National Gallery of Canada Board of Trustees and a member of the newly founded Chinese-Canadian Museum Board of Directors.
Diana Moser (ArtsBuild Ontario, Kitchener)
Diana is the Interim Executive Director of ArtsBuild Ontario, an arts service organization dedicated to realizing long-term solutions for building, managing, and financing the sustainable arts facilities needed in Ontario communities. ABO gathers research and data to inform learning initiatives, tools, resources, and advocacy campaigns that support the development and management of creative spaces and the people who lead them. Diana holds a BA and an MA in History from McMaster University, as well as a Master of Museum Studies (MMSt) from the University of Toronto. Her professional work spans arts councils, theatre companies, museums, university departments, and municipal and provincial government structures. She is a highly experienced collaborator with community, social profit, education, cultural, private, and government organizations. In life and work she is richly informed by her experiences living in both remote Northern Alberta and dense Southern Ontario. Diana is also an accomplished musician and theatre artist with experience running a small, independent theatre company and producing artistic works.
Cecelia Pye (School of Cities, University of Toronto, Toronto)
Cecelia is an urban planner and the Project Lead for the Creative Mixed-Use initiative and the Urban Pilot Lab at the School of Cities, University of Toronto. Creative Mixed-Use buildings bring together public and private uses in creative ways, locating unexpected partners in the same facility. The initiative provides a matchmaking service for building partners, offers training modules to help organizations through these complex development processes, and provides site-specific support for mixed-use buildings. Cecelia also supports the School's Urban Pilot Lab, where interdisciplinary research projects address critical issues facing cities and citizens.
Michael Vickers / (Akin, Toronto)
Michael Vickers is an artist and Co-Director of the local arts organization Akin, providing affordable studio space to over 300 artists across 8 locations in downtown Toronto and a year-long calendar of free or low-cost community arts events across the city. Vickers holds an MA in Art History from the University of Toronto and an Honours BA in Visual Arts & Communications and has exhibited locally and internationally, including presentations at Volta Basel, Mercer Union, Clark House Mumbai, Division Gallery, DesignTO, Patrick Mikhail Gallery and collaborative installations at the Art Gallery of Ontario and the Gardiner Museum. www.michaelvickers.org
ArtsPond / Étang d'Arts
Cultivating shared ecosystems of care through the arts. Cultiver des écosystèmes de soins partagés grâce aux arts.