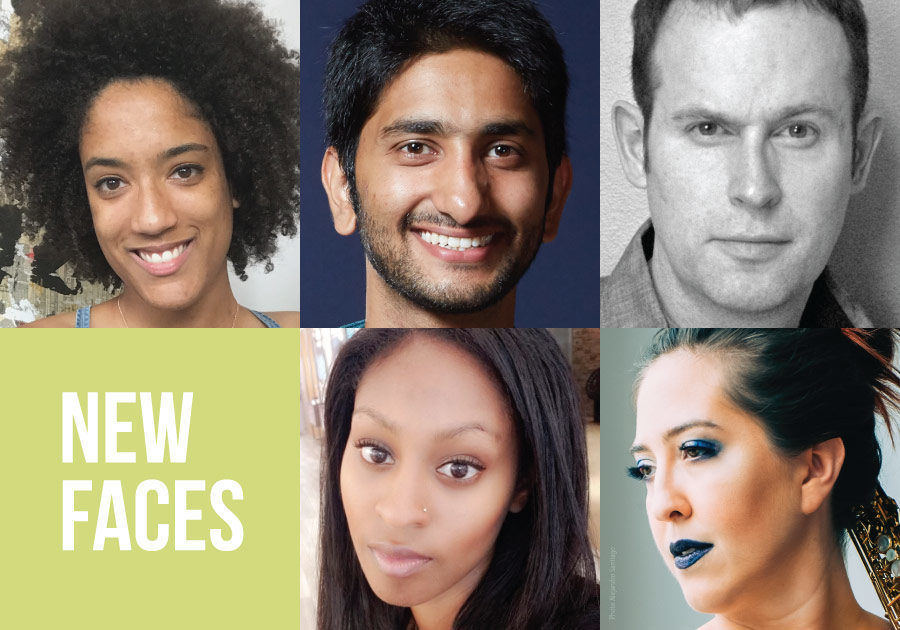 ArtsPond is pleased to announce the five creators and producers selected for our 2020 Artist Residency: Talysha Bujold-Abu (Windsor), Agneya Chikte (Toronto), Chris Dodd (Edmonton), Katerina Fuller (Toronto), and Olivia Shortt (Toronto).
Generously funded by Canada Council for the Arts' Digital Strategy Fund, these five talented individuals will help envision a positive digital future for managing the arts and culture in Canada. They will each help co-design an inclusive and accessible approach for Hatch Open's open source software platform and Artse United's platform cooperative that is responsive to the needs of equity-seeking groups in the visual, performing, and disability arts.
Talysha Bujold-Abu is an artist, illustrator, and arts educator. She holds a Masters of Fine Arts (MFA) from the University of Windsor (2018) and is recipient of the Outstanding Graduate Student Research Award – Excellence in Scholarship, Research and Creative Activity (2018). Bujold-Abu has spoken and exhibited at the Intersections | Cross Sections Conference in Toronto (2018), participated in the Structures of Anticipation Research Symposium and Exhibition in Windsor (2019). Recent panels include: Reclaiming Hidden Histories: Researching, Writing, and Re-Imagining Community Narratives in Windsor (2019) and the International Women's Day: Artists Panel Discussion in Windsor (2020). Selected exhibitions include: Art is a Living Thing in Masterton NZ (2017), The Truth Has Legs in Leamington (2019), and The Body Electric – Diversity in Residency Education: Training in a World of Differences, Royal College of Physicians and Surgeons (RCPSC) in Ottawa (2019). Talysha Bujold-Abu is currently the Gallery Manager & Membership Coordinator with Arts Council Windsor & Region, a non-profit organization that programs and supports all disciplines of the creative arts.
Agneya Chikte is a Toronto based drummer/percussionist who has been performing professionally for 7 years. Born and raised in India, he moved to Toronto to pursue his Bachelor's in Music at the prestigious Humber College – Faculty of Media & Creative Arts, and has been steadily rising through the ranks in the music scene. Known for his stylistic versatility, Agneya performs on drum set and percussion alike, covering a broad range of styles reflecting his interest in a variety of music and his natural feel for groove and texture regardless of genre. Having studied with some of Canada's best-known musicians and educators, Agneya has performed across Ontario at stages like the Yonge-Dundas Square, Nathan Phillips Square, CNE, Toronto Jazz Festival, Niagara Jazz Festival, Orangeville Blues & Jazz festival and the Brantford International Jazz Festival. In his time in Toronto, Agneya has had the honour of receiving multiple awards and scholarships, including the Canada-wide 'Musicounts Scholarship' (2018) presented by CARAS. www.agneyachikte.com
Chris Dodd is an Edmonton-based Deaf performing artist, playwright, accessibility advocate and Governor General Innovation Award finalist. He is the founder and artistic director of Canada's national theatre festival dedicated to the Deaf performing arts, SOUND OFF. He is an artistic associate with Workshop West Playwrights' Theatre and is one of their Playwrights in Development. His solo work, "Deafy", began touring at the Summerworks Performance Festival last year and will be published by Playwrights Canada Press in 2021. Chris holds a degree from the University of Alberta's Drama program. He was recently the recipient of the Guy Laliberté Prize for innovation and creative leadership by the Canada Council of the Arts.
Katerina Fuller is a professional artist born and raised in Toronto. Her background is Indian Jamaican, Black Jamaican. Her early career as an artist began at Wexford Collegiate School for the Arts. It was there that she discovered her passion for the arts and her talent did not go unnoticed by her professors either. In her last year at Wexford Collegiate, she joined the special arts program. After graduating, Katerina took her talent and passion further pursuing a career as a professional artist at OCAD University and earning her degree in 2016 in Fine Arts Drawing and Painting. Today, Katerina continues to grow her practice as an independent artist featuring her work in a number of gallery shows and auctions. Her areas of specialization are portraiture and landscapes. When she is not creating art, she is seeking to share her knowledge and gain knowledge. She has worked with an arts organization called Dune Kids, McCanny; a private school assisting students with the preparation of their portfolios for auditions to art schools. Katerina has also spent time volunteering at the Harbourfront Centre doing arts and crafts with kids. She is now a Resident Artist and Associate Researcher with ArtsPond helping their mission to eradicate precarity among artists.
Olivia Shortt (Anishinaabe, Nipissing First Nation) is a Tkarón:to-based multi-disciplinary performing artist. They are a multi-instrumentalist, vocalist, noisemaker, improviser, composer, sound designer, curator, and producer. Many highlights for Olivia include their film debut playing saxophone & acting in Atom Egoyan's 2019 film Guest of Honour; their Lincoln Center (NYC) debut with the International Contemporary Ensemble; their Australian debut performing with keyboardist Jacob Abela in Melbourne; and recording an album two kilometres underground with their duo Stereoscope in the SnoLAB (a Neutrino Lab in Northern Ontario, Canada). They were selected as a Metcalf Performing Arts Intern in Producing with Nightswimming and Signal Theatre and were mentored by Brittany Ryan. They have also been named a 2020 cohort member of Why Not Theatre's ThisGEN Fellowship. Their most recent works include writing their first string quartet 'the body remembers' as part of the JACK Quartet's inaugural 2020 JACK Studio in NYC, composition and sound design for 'Welcome To My Underworld' (Director Judith Thompson in collaboration with Soulpepper), as well as composition and sound design for 'Brain Storm' with Lucid Ludic Productions and Why Not Theatre. As an activist, they are alumni of the 2018 cohort of the artEquity facilitator training program (New Orleans, LA), as well as the 2019 Toronto Arts Council's Leaders Lab and was a lead organizer and co-founded the Toronto Creative Music Lab (TCML). www.olivia-shortt.com