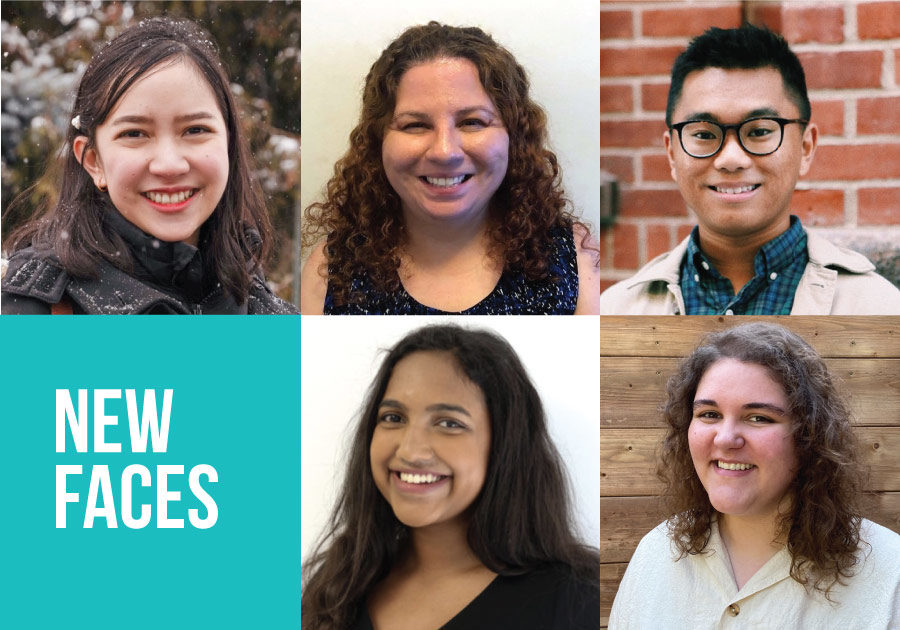 We are thrilled to welcome many new faces to our team for Summer 2020. You will be hearing more from these leaders of tomorrow so feel free to reach out and say hello.
Inset image (top left to right): Sheriza Anne De Guzman, Katrina MacKew, Niko Casuncad; (bottom left to right): Ayesha Veerasuntharam, Megan Wilk
Sheriza Anne De Guzman, Associate Researcher (Intern)
Sheriza is an international student from the Philippines. As a culture and heritage enthusiast, she finds ways to broaden her knowledge in the arts and culture sector by taking a post-graduate studies in Arts Administration and Cultural Management at Humber College, and a masters in Cultural Heritage Studies. She just recently received her Harvard Certificate through edX in Tangible Things. Sheriza believes she shares the same values as ArtsPond: promoting economic justice and seeking inclusion in the creative industry. Sheriza is helping with applied research for I Lost My Gig Canada and DigitalASO. She can be reached at sheriza@artspond.com.
Katrina MacKew, Associate Producer (Intern)
Katrina is a proud holder of a B.F.A and a B. Ed in Visual Arts with seven years of art administration and education management. She is currently finishing the Humber Arts Administration and Cultural Management program in order to pursue her passion of bringing together transformative art and lifelong learning experiences through community inclusion and hands-on learning. Well-versed in getting youth involved in recreational activities, she has acquired valuable experience in programming and teamwork. Because of her interests in social equity, Katrina is delighted to learn new skills at ArtsPond working alongside a team of other like-minded individuals. Katrina is helping with fundraising and events logistics for all ArtsPond activities. She can be reached at katrina@artspond.com.
Niko Casuncad, Associate Researcher
Niko Casuncad is an urban planner based in Tkaronto, Treaty 13. His research and work interests are in community planning and development, affordable housing, equitable placemaking, and community engagement for equity-seeking communities. Niko has experience in qualitative research, project management, and community engagement in Toronto, Yellowknife, and Calgary. He holds a Master of Planning from Ryerson University's School of Urban and Regional Planning and a BA in Urban Studies and Certificate in Sustainability Studies from the University of Calgary. Niko is a recipient of Alberta Council for Global Cooperation's Top 30 Under 30 award for his work on sustainable cities. Niko is supporting the evolution of Groundtrust including the design of educational toolkits for youth on social purpose real estate solutions for the arts. He can be reached at niko@artspond.com.
Ayesha Veerasuntharam, Translator (English to French)
Ayesha is a recent graduate of Sciences Po Paris and is continuing her studies at UBC as part of a dual bachelor's degree. Her bilingual studies in politics and government inspired her to join the ArtsPond team as an English to French translator this summer. Her previous work in social justice includes working in refugee and asylum seeker integration in Lyon, democratizing public speaking on campus, and as head of student government working on ensuring equal access of all students regardless of financial status to events and experiences. She is excited to work with the ArtsPond team this summer! She can be reached at ayesha@artspond.com.
Megan Wilk, Associate Producer
Megan Wilk is completing the Arts Administration and Cultural Management post-graduate program at Humber College. She received a Fine Arts Baccalaureate in 2017 from Concordia University. With studies focused primarily on visual arts and art history, her experience and dedication to continual learning has led towards building an equity-seeking, multi-disciplinary perspective. In April 2020, Megan completed a 4-month internship with ArtsPond. She is happy to return to ArtsPond as an Associate Producer working with the DigitalASO initiative in event logistics, marketing, and contact management. Megan can be reached at megan@artspond.com.