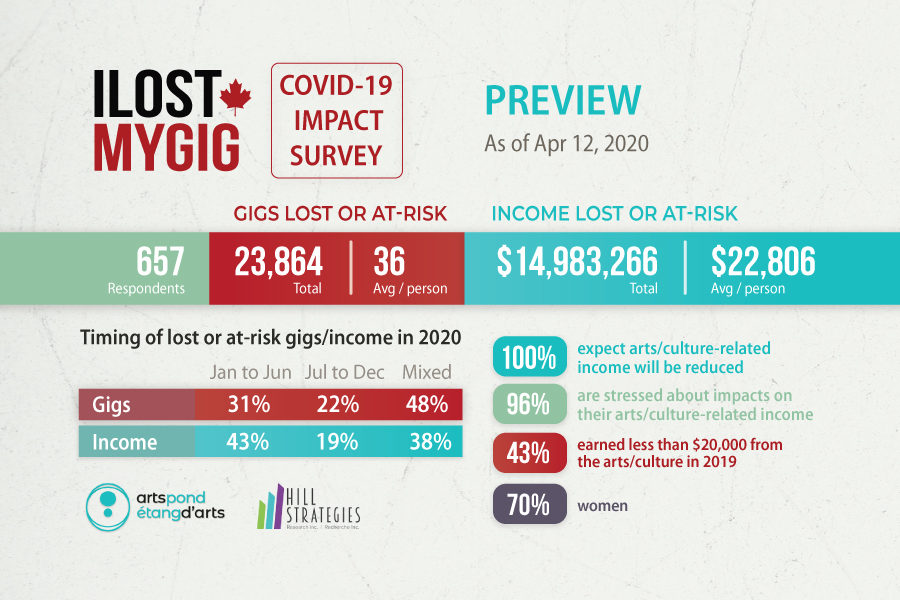 Updated early results are now available for ArtsPond + I Lost My Gig Canada's COVID-19 Impact Survey of individual workers in the arts, culture, heritage, tourism, and creative industries in Canada.
As of April 12, 2020, 687 respondents report a total of 23,864 gigs lost or at-risk (36 average / person), and a total of $14,983,266 lost or at-risk income ($22,806 average / person) in 2020.
31% of all lost or at-risk gigs and 43% of lost or at-risk income are expected in the first six months of 2020. 100% of respondents expect their arts/culture-related income will be reduced in 2020, with 83% expecting their income will be severely reduced. 96% are stressed about the economic impacts of the pandemic, including 31% extremely stressed (eg, to the point of losing sleep).
To date, 70% of respondents are women, 50% are from the performing arts, 69% are self-employed, and 43% earned less than $20,000 from the arts, culture, or related activities in 2019. Stay tuned for further details including breakouts by province, municipality, discipline, types and locations of gigs lost, and more.
The survey is open throughout 2020. Share your story today!