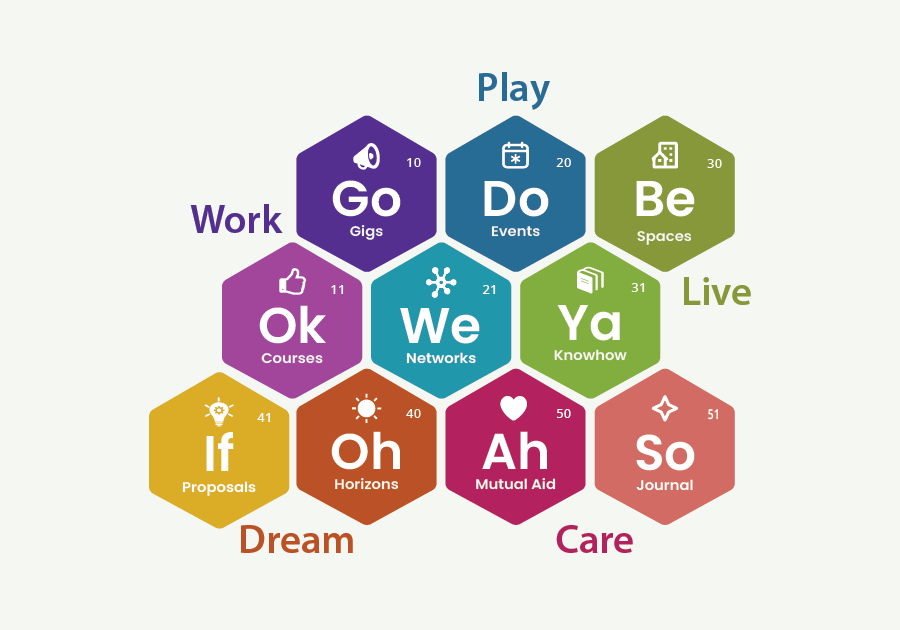 A periodic hive of ponds?
The nascent elements here are just the beginning of a few experiments over the coming year to develop some new lightweight digital tools that support working, playing, living, dreaming, and caring in the artistic, creative, and cultural industries.
We are seeking to fill in some gaps while we near completion of the first stages of development for Hatch Open's more robust financial management, crowdfunding, and knowledge/ecosystem mapping modules to be released later this year.
For example:
WORK
Go | Gigs
Post, search, and apply to open calls, jobs, funding and more in the artistic, creative, and cultural industries.
Ok | Courses
Online courses made by and for creatives. While we will be producing elearning coursres of our own, we want to invite members of the community to contribute their own course ideas and content, with the majority of earned revenues generated by the course being paid to content creators.
PLAY
Do | Events 
Events listings for everyone who enjoys arts and culture
We | Networks
Alternative social media network for creatives.
LIVE
Be | Spaces
Post and search for spaces to live, work, or play.
Ya | Knowhow
A knowledge base with wisdom on arts and culture-led social change.
CARE
Ah | Mutual aid
Matching caregivers and careseekers in the artistic, creative, and cultural industries.
So | Journal
An online journal on arts and social change. We will be posting a call soon for a new Care Fellows program where participants will be commissioned to write new works for the inaugural issue in 2024.
We are working to launch each of these tools and more as a part of our upcoming tenth anniversary celebrations in early 2024, with a few to be available in preview this fall.