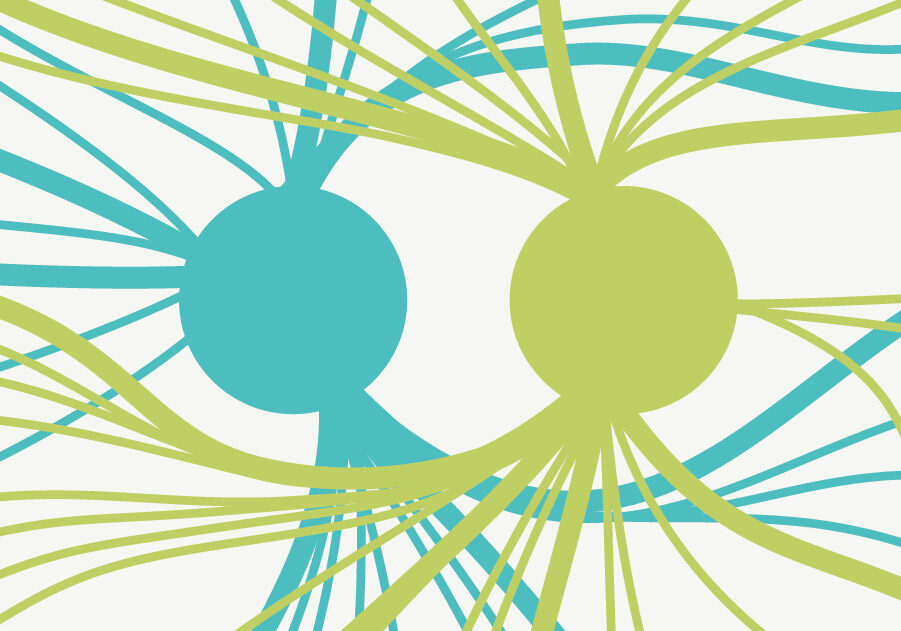 Last month, we shared the first preview of our evolving vision as a Caring Enterprise with four archetypal elements rooted in the wisdom of the arts: Create, Engage, Share, and Care.
While still a work-in-progress, today we would like to take the next step by sharing two visual models:
In the first diagram, we introduce a conceptual model that underpins our vision as a caring enterprise boosting positive systems change with, by, and for the arts. The current model draws upon wise practices from social innovation and community-engaged arts.
In the second diagram, we illustrate how this conceptual model is applied to two of our spatial justice initiatives, Groundstory and Groundtrust.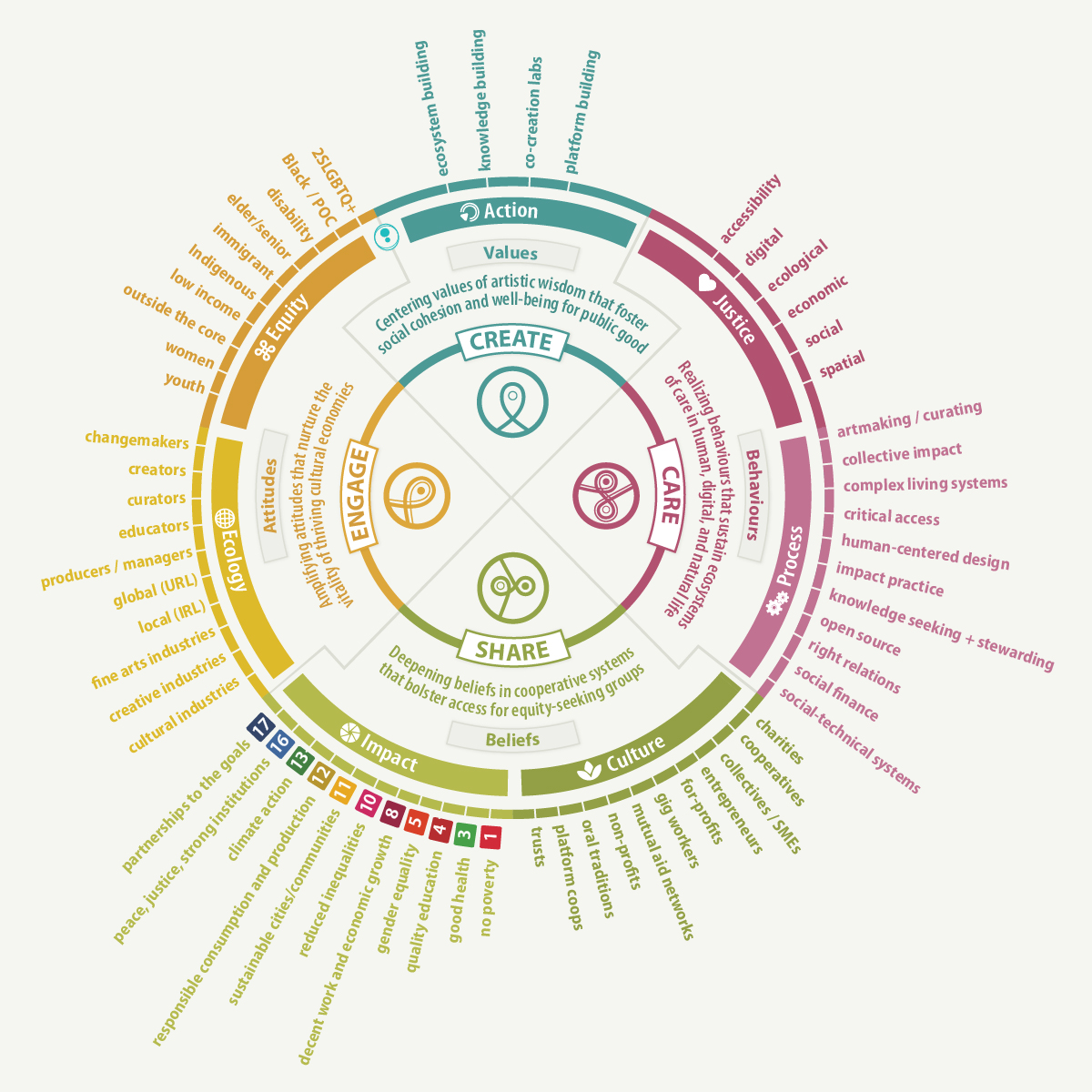 Elements
This infographic strives to summarize ArtsPond's approach as a Caring Enterprise in the arts. It is a circular model with teal, orange, green, and reddish-purple segments and texts on a light taupe background. In the center of the circle are the four essential elements that guide our vision. These include:
CREATE: Centering values of artistic wisdom that foster social cohesion and well-being for public good
ENGAGE: Amplifying attitudes that nurture the vitality of thriving cultural economies
SHARE: Deeping beliefs in cooperative systems that bolster access for equity-seeking groups
CARE: Realizing behaviours that sustain ecosystems of care in human, digital, and natural life.
Perspectives
Moving outwards from the center, the next level outlines seven interconnected perspectives or lenses that help situate our various efforts related to the four elements. Derived from wise practices in community-engaged arts and social innovation, these seven perspectives include Action, Equity, Ecology, Impact, Culture, Process, and Justice. They each root back to one of the four guiding elements, as in the following:
Priorities
At the outer edge of the framework are 63 priorities that make up ArtsPond's evolving business model. In the realm of Impact, there are 11 different goals that we are committed to from the United Nations' 2030 Global Sustainable Development Goals.  Starting from the top, the full model is as follows:
Action

Ecosystem building
Knowledge building
Co-creation labs
Platform building

Equity

2SLGBTQ+
Black / POC (people of colour)
Disability
Elders / seniors
Immigrants
Indigenous
Low income
Outside the core (suburban, rural, remote)
Women
Youth

Ecology

Changemakers
Creators
Curators
Educators
Producers / managers
Global (URL)
Local (IRL)
Natural (NRL)
Fine arts industries
Creative industries
Cultural industries

Impact (2030 Global Sustainable Development Goals)

1-No poverty
2-Good health
4-Quality Education
8-Decent work and economic growth
10-Reduced inequalities
11-Sustainable cities and communities
12-Responsible consumption and production
13-Climate action
16-Peace, justice, and strong institutions
17-Partnerships to the goals

Culture

Charities
Cooperatives
Collectives / SMEs
Entrepreneurs
For-profits
Gig workers
Mutual aid networks
Non-profits
Oral traditions
Platform coops
Trusts

Process

Artmaking / curating
Collective impact
Complex living systems
Critical access
Human-centered design
Impact practices
Knowledge seeking / stewarding
Open source
Right relations
Social finance
Social-technical systems

Justice

Accessibility
Digital
Ecological
Economic
Social
Spatial
Based on the model above, this second infographic illustrates the relationships between two of our spatial justice initiatives, Groundstory (a collective impact effort on spatial precarity and gentrification in the arts) and Groundtrust (cultural land trust literacy and feasibility study).
With overlapping lines radiating out from two circles in the center (blue for Groundstory, and green for Groundtrust), this diagram serves to highlight which of the 63 priorities these two initiatives are focused on. Some lines are thicker than others, denoting increased importance. Visually, the diagram looks like bicoloured eyes with overlapping streams or roots branching outward.  The priorities are as follows:
Groundstory
Actions

Ecosystems building (priority)
Knowledge building

Equity

Black / POC
Low income
Outside the core
Youth (priority)

Ecology

Creators (priority)
Producers / managers
Local (IRL)

Impact

1-No poverty
4-Quality education
8-Decent work and economic growth
10-Reduced inequalities
11-Sustainable cities / communities (priority)

Culture

Gig workers (priority)
Non-profits
Oral traditions

Process

Collective impact (priority)
Human-centered design
Knowledge seeking + stewarding
Right relations

Justice

Accessibility
Social
Spatial
Groundtrust
Action

Ecosystem building
Platform building (priority)

Equity

Black / POC
Disability
Indigenous
Low income (priority)
Outside the core

Ecology

Creators (priority)
Curators
Educators
Producers / managers
Local (IRL)
Fine arts industries
Creative industries
Cultural industries

Impact

1-No poverty
3-Good health
10-Reduced inequalities
11-Sustainable cities/communities (priority)
13-Climate action

Culture

Charities
Gig workers
Non-profits
Trusts (priority)

Process

Complex living systems
Critical access
Right relations
Social finance (priority)

Justice

Accessibility
Ecological
Economic
Spatial (priority)