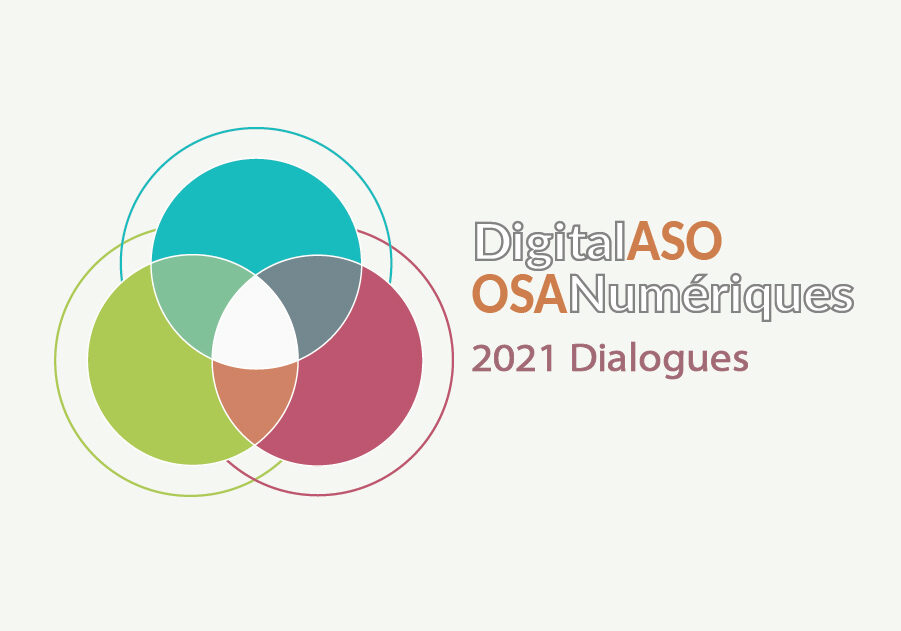 ArtsPond invites expressions of interest to participate in the next iteration of DigitalASO's community-centered dialogues taking place online in June and July 2021.
Participants will join a small group of thought leaders, technologists, community practitioners, and artists to discuss the future of Canada's digital arts services ecosystem. The knowledge gathered will be used to help validate insights from DigitalASO's national roundtables in 2020. Participants will also help co-create solutions that can foster greater knowledge sharing, equitable ecosystem development, and innovative platform-building within Canada's digital arts services community. This will help guide the design of DigitalASO's interactive Ecosystems Map, a tool envisioned to support matchmaking between digital champions and people in need. Your input will also inform the scoping of a national strategy for alliance-building now that Canada Council for the Arts' Digital Strategy Fund is done.
Honoraria of up to $350 are available for participation in a maximum of two sessions per person. Expressions of interest may be submitted here (or in the form below) until June 11, 2021. Selected participants will be notified shortly thereafter.
All of the sessions are 75 to 90-minutes in duration and are presented in English, with French and ASL interpretation services by request. Scheduling of the sessions are flexible according to the availability of the participants. They are facilitated by DigitalASO's Co-Founder Margaret Lam and Ecosystems Lead Jean Macpherson, plus other experienced mentors, guest speakers, and arts leaders. The sessions begin with an overview of the stories and gifts of knowledge received during the first iteration of DigitalASO Roundtables in 2020. The core of the session will be spent in topic specific mini dialogues or co-creation activities as outlined below. Read this blog post by Margaret Lam to learn more about our co-creation approach.
MINI DIALOGUES
Help interpret and gain more clarity about the complex problems faced by the ecosystem of digital arts services in Canada. Sit in the creative tension and discomfort of problem spaces.
1: Innovation at the Edge
Innovation, ground-breaking insights, new practices. Almost by definition, these things happen at the edge, away from the center. Yet that is rarely the first place that we look. The "edge" can be found in geography. It can also be found in terms of marginalized communities, alternative business practices, emergent digital technologies, and more. How can we share ground-breaking insights and practices that challenge the status quo, while giving power to places and people that are not usually seen?
2: Invisibility of Difference
The celebration and empowerment of difference is built-in to the way we push boundaries, question the status quo, and provoke thoughtful reflection. There are differences in terms of abilities, lived experiences, impacts of technology, socio-economic means, and so much more. As the number of programs, services, and experiences that are delivered digitally continues to grow, what are the other kinds of difference amongst our artists, patrons, and arts community that we need to be champions of?
3: Towards Sectoral Change
Four years after the launch of Canada Council's Digital Strategy Fund, a generation of sectoral initiatives have emerged in response to the digitized landscape of our societies. We have engaged in new research and practices, experienced successes, and failures, and transformed as individuals and organizations. We have had divergent journeys.  How do we help our journeys converge? How do we align our collective efforts?
CO-CREATION ACTIVITIES
Tackle complex issues through the lens of equity and justice in an interactive environment. Play and experiment in co-creative solution spaces, with radical intent.
1: Fostering Bridges, Cultivating Trust
How do we reframe community and region-specific needs into shared human conditions?  This session will dive into this topic and work out how a more connected ecosystem could foster the kinds of innovation we need.
2: Building Up Wise Practices
How do we improve the way we connect, share, and learn to build a shared understanding? This session will explore how the arts should approach the creation of digital experiences to consciously privilege and champion underserved, marginalized voices.
3: Advancing a Just Society
What roles does digital play in advancing a just society? This activity will articulate a shared vision for how we situate ourselves as artists, as arts organizations, as a sector, in a digital ecosystem.
About DigitalASO
Incubated by ArtsPond, DigitalASO is a national effort to boost the equitable transformation of Canadian digital arts services through knowledge, ecosystem, and platform-building. DigitalASO is made possible with funding from the Canada Council for the Arts' Digital Strategy Fund and Employment and Social Development Canada.
For more information about DigitalASO and the events above, please contact DigitalASO National Alliance Manager and Ecosystems Lead Jean Macpherson at nam@digitalaso.ca, or ArtsPond Associate Producer Megan Wilk at megan@artspond.com.
Expression of Interest Form