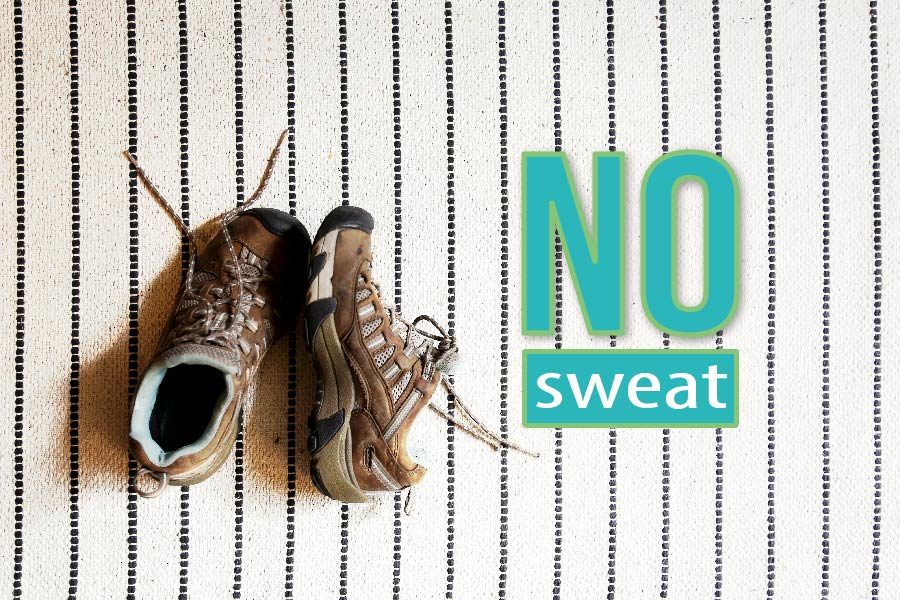 Found it! is an occasional blog series by ArtsPond Founder, Jessa Agilo.
Founding a new venture in the arts is rarely done in short order.
I was first introduced to the concept of "sweat equity" in the late 1980s. At the time, I was investing many sleepless days and nights striving to refine my skills and craft as a composer at university.
Being a bit of a data geek, I came to realize early on that for every few seconds of sound that I produced, there would be hours, even days or weeks of contemplation, spiritual and technical thinking, deep listening, and "woodshedding" (practising) before any sounds of mine might be shared in public.
Gradually, the definitively devilish ratios of 1 : 8,640 (10 seconds of sound to 1 day of preparation) to 1 : 60,480 (10 seconds of sound to 7 days of preparation) became my very own maps to the sweat equity I was investing into my fledgling musical career. Compared to a 40-hour work week ratio of 1 : 4.2 (40 hours of cash compensation for every 7 days), the investment of time and energy required to become a composer was a massive commitment that was rarely paid.
Like many others before me, it was this abundance of time and precarity of income that inexorably led me to shift the focus of my career in the early 2000s toward the more business-end of the arts, and in 2014, the launch of ArtsPond.
Leading the evolution of ArtsPond has been a wonderful experience, albeit challenging, too, for my personal schedule and pocket book. I was warned by colleagues, friends, and family about the sweat equity required to start a new company in the arts. While the rewards have been many — more on those in a future post — the investment required has been higher than expected, yet still significantly less than than my days as a composer.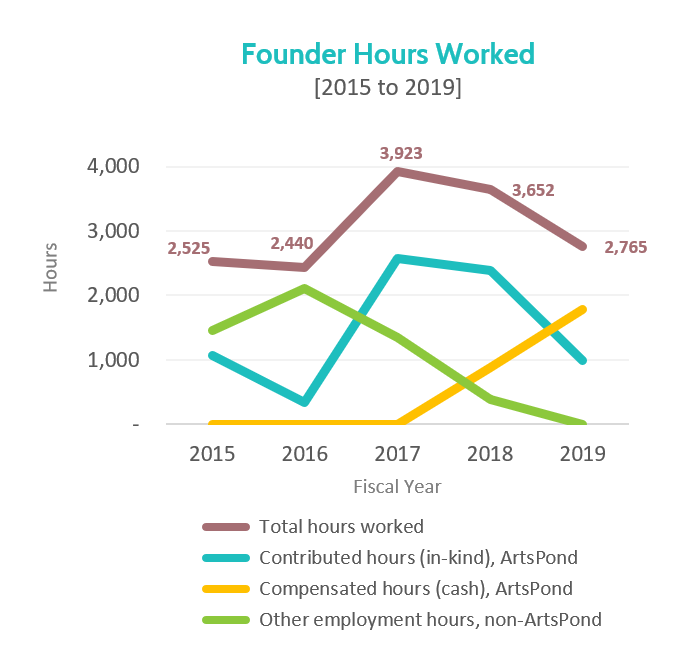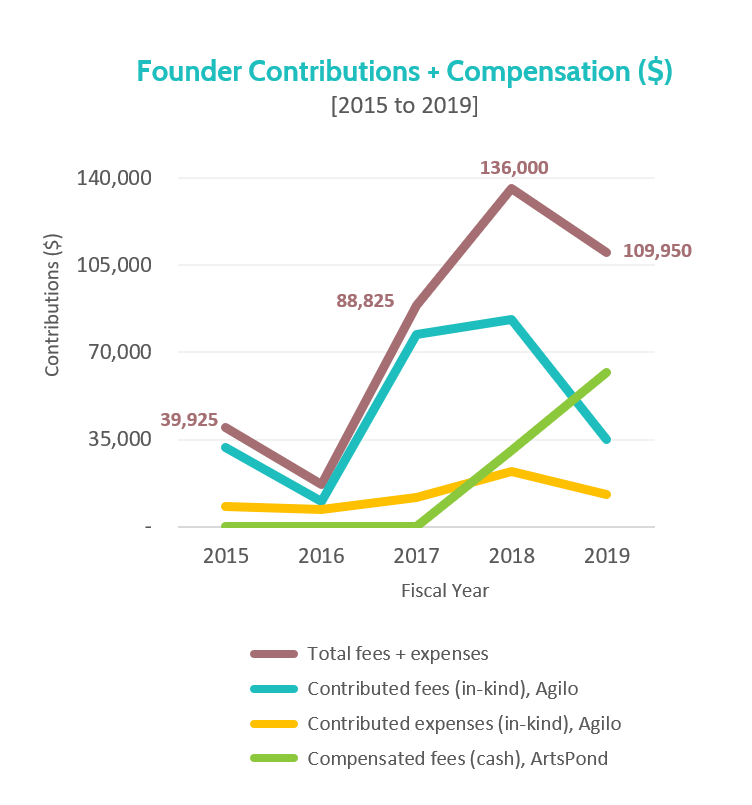 As outlined in the two charts above, the first two years (prior to incorporation in the 2017 fiscal year) required me to commit $57,000 and 1,400 hours of in-kind contributions for time and expenses. In 2017, the first year of incorporation, my in-kind contributions increased to $88,825 and 2,575 hours, followed by $106,225 and 2,385 hours in 2018, before falling to $48,000 and 990 hours of in-kind time and expense contributions in 2019. Since 2015, I have contributed $61,800 in cash for ArtsPond's ongoing administration, production, education, marketing, fundraising, and administration expenses.
In the early days, I kept myself and ArtsPond afloat by also working as a freelancer in the arts, including 1,455 hours of other non-ArtsPond employment in 2015, 2,105 hours in 2016, 1,348 hours in 2017, and 382 hours in 2018, before falling to zero other employment hours in 2019. ArtsPond revenues had grown sufficiently in 2018 to begin providing cash compensation for my time at 885 hours, followed by 1,775 hours in 2019. This has resulted in many long work days, averaging 50 to 78 hours per week, although since 2017 at least 6 weeks per year have exceeded 100 hours per week.
Thus, my sweat equity ratios for time required to launch ArtsPond for the first five years have been as follows (compared to a regular 2,000 hour work year): 1 : 1.26 (2015), 1 : 1.22 (2016), 1 : 1.96 (2017), 1 : 1.83 (2018), and 1 : 1.38 (2019).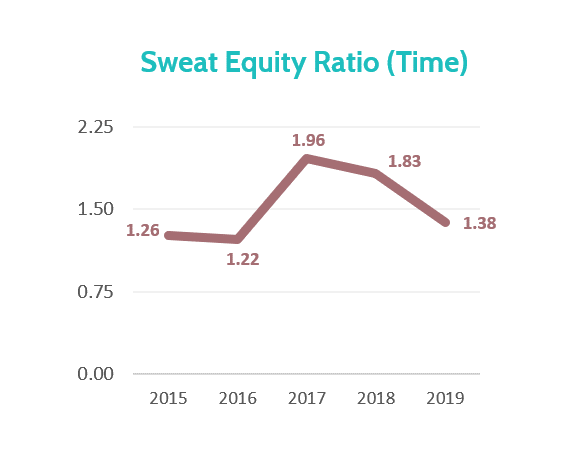 One of the questions I am most frequently asked is would I do it all over again knowing the amount of work and personal investment involved? Without hesitation, my answer is always, yes, absolutely. The communities I serve deserve everything and all I can give.
More thoughts to come as ArtsPond celebrates its fifth season in 2019-20!