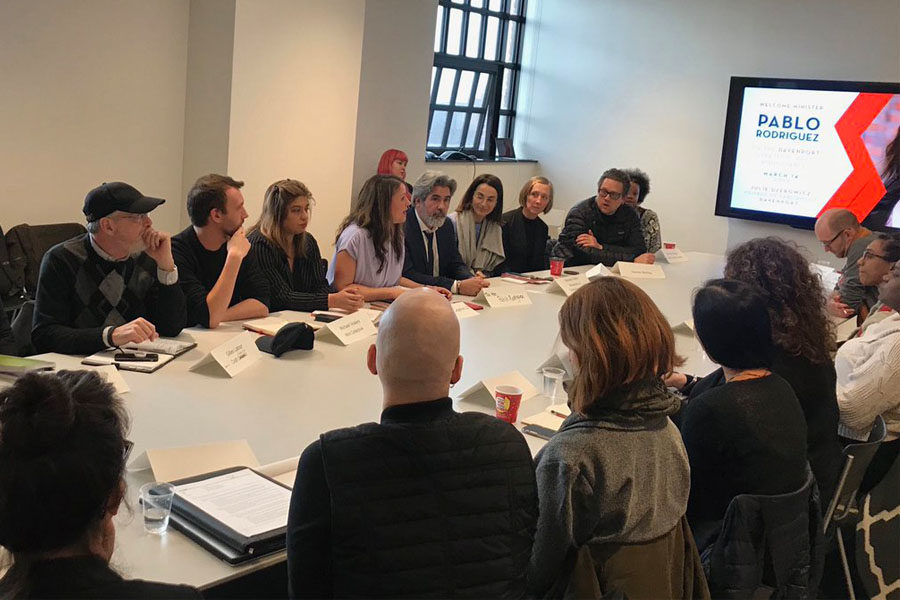 Yesterday we were delighted to join the Davenport Strategic Arts Roundtable with MP Julie Dzerowicz, City of Toronto Councillor Ana Bailão, and Minister of Canadian Heritage Pablo Rodriguez, held at MOCA.
We were pleased to share our thoughts on urgent spacing challenges in the arts, including the lack of relevant and timely data to help make informed decisions about the appropriate and equitable allocation of public funds for cultural infrastructure; particularly in the face of growing precarity and displacement of arts workers from traditional artist enclaves like Davenport due to gentrification.
For example, there is very little current data available to illustrate the changing spacing realities of arts and culture workers in Davenport and beyond encompassing shelter, studios, and spaces of public engagement. In some cases, ArtsPond has been forced to rely on data from ten years ago to facilitate Groundstory, our collective impact effort on gentrification in the arts.
And yet, a great deal of resources are currently being invested in the development of large cultural hubs in downtown cores. Are large cultural hubs the answer? Are they being built where they are most needed, near where artists will able to afford to live and work in the future? Will large cultural hubs only serve to speed up the forces of gentrification, thus displacing artists even faster and further afield? Would a greater investment in a greater number of smaller, more affordable spaces across the city have less adverse, more equitable, ripple effects? What investments are necessary to help vulnerable creators and producers remain in their communities, and to become more engaged in critical urban planning dialogues? It is impossible to know how to respond to these questions without access to relevant and timely data to guide the way.
Minister Rodriguez agreed to bring this issue to the attention of Statistics Canada and Minister of Innovation, Science, and Economic Development Navdeep Bains. It is our hope that the Department of Canadian Heritage and Statistics Canada can pay more attention to documenting the growing spacing precarity of arts and culture workers in Davenport and across Canada, and to better support grassroots research initiatives in the arts sector like Groundstory that are striving to fill these gaps.
Our Founder, Jessa Agilo, also expressed her concerns about the apparent lack of inclusion of the arts community in the roll-out of important federal consultations such as the National Housing Strategy and Canada Social Finance Fund… a missed opportunity for Canadian arts leaders to contribute to the evolution of positive public policy and social change. Until barriers to participation by the arts community in public policy conversations can be redressed, Minister Rodriguez agreed that greater outreach to the arts community should be considered for these kinds of initiatives in the future.
ArtsPond / Étang d'Arts
Cultivating shared ecosystems of care through the arts. Cultiver des écosystèmes de soins partagés grâce aux arts.