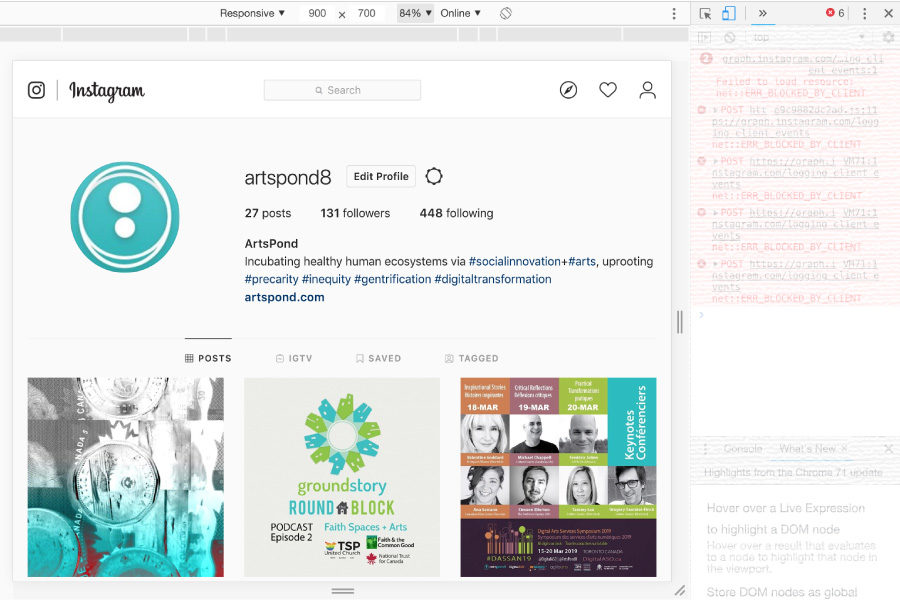 Are you active on Instagram but want to post content from a desktop or laptop instead of a mobile device? Did you know there is a free workaround to allow this to happen? When we discovered it, we shouted, "aHa!"
Here's how in Google Chrome:
Visit your Instagram account.
Select Developer Tools from under the "More Tools" option in the "customize and control" menu (Ctrl-Shift-I on Windows, Cmd-Opt-I on Mac). This will open a new window beside your Instagram profile.
Select "Toggle device toolbar" (Ctrl-Shift-M on Windows, Cmd-Shift-M on Mac) to preview your Instagram account using the mobile device of your choice (Google, iPhone, iPad, etc). The link is an icon of a mobile phone and a tablet in the menu for the new window. This tool is an emulator so you can preview what various web pages look like for different devices. In this case, it tricks Instagram to think that you are no longer using a desktop or laptop web browser, but a mobile device.
Refresh the browser window to force recognition of the new device emulator you have chosen, which will add the missing upload image button and other app-only tools to the preview.
Click on the add image button and proceed as usual. Voila! No more sending images from your computer to your phone just to post to Instagram.
Please note that posts cannot be edited or deleted using this method. You will have to use the mobile app to do so.
The process is very similar in Firefox. Just choose "Web Developer" from the customize menu, then "Toggle Tools" (Ctrl-Shift-I on Windows, Cmd-Opt-I on Mac), then "Responsive Design Mode" (Ctrl-Shift-M on Windows, Cmd-Opt-M on Mac) to access the same mobile device preview as Chrome.
This post is the first in an ongoing series of arts management tips, tricks, and "aHa!" moments that fill our days and make our work more efficient AND fun. We look forward to sharing with you!
Jessa Agilo
ArtsPond Founder, President & CEO. Art for life.