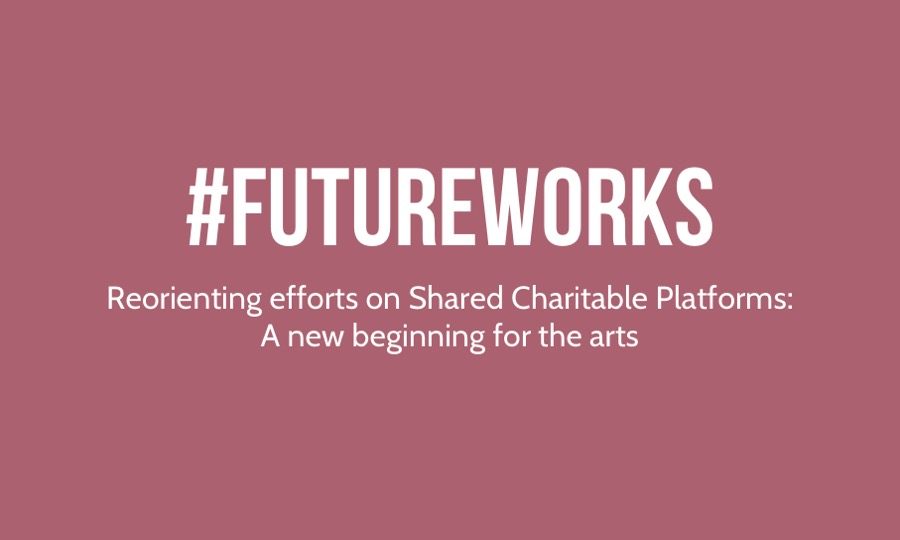 ArtsPond was originally established in 2014 with a mandate to become a national, multidisciplinary "Charitable Venture Platform" (CVP) or "Shared Charitable Platform" (SCP) for the arts. We initially made this effort in response to Jane Marsland's landmark paper "Shared Platforms and Charitable Venture Organizations" from 2013.
Since completing an unsuccessful provisional charity status application for ArtsPond in 2015 (which received a 10-page letter of rejection from the Canada Revenue Agency), ArtsPond has been trying to rally a precedent to allow these types of platforms to become established and rooted in the community.
Four years later, the light at the end of the tunnel seems just as far away as it was when we started. The legal, political, and policy concerns are just as murky, if not more so, than they were in 2014 despite ongoing consultations with lawyers and community members. The common economic model being proposed (10% of revenues just for the platform to operate) seems unsustainable for small creators and producers when typical budgets for all administration are preferably 15% or less. We have argued that CVPs will only be economically viable if robust digital information systems (preferably open source and open data) are developed prior to launching any platform. This will allow a platform to serve more artists than it would otherwise, and to appropriate scale, potentially cut economic models down to more reasonable 5% of revenues. At a larger scale, information systems are critical in order to facilitate collaboration, increase efficiency, and track activities and data to demonstrate to the Canada Revenue Agency the high artistic quality, high public impact, and strong direction and control practices necessary to allow these platforms to secure and retain charitable registration. However, after submitting unsuccessful proposals in excess of $1 million over the past two years, finding the resources to develop the specific information systems required has continued to be a difficult challenge indeed.
After all this time, we have been evaluating whether or not to continue pursuing development of CVPs. The realities of our systems and society are changing fast. We are now of the position that it will not be economically or culturally viable to invest in CVPs until there is evidence to suggest that charitable giving in Canada is not continuing to decline significantly. Older generations of donors are passing away and younger generations are not building habits of donating to charities. They instead seem to be captured by viral, non-charitable crowdfunding campaigns that have high visibility like Humboldt Strong. Would they take the time to learn about donating to a CVP where the relationships between the artist and the platform are not easily understood either artistically and legally?
We are not at all convinced that donors will on mass suddenly start donating to support small creators and producers in the arts should a platform be created. It seems to us that it may take several years of trying to encourage more donors to give and volunteer in the arts before a CVP will ever be viable should the Canada Revenue Agency miraculously permit a platform to publicly operate. A reasonable next step will be to invest in studies of ways to deepen and sustain donor-artist relationships before building a platform.
On another front, CVPs now feel like yet another highly inequitable gateway that will only ever advantage a segment of the industry much smaller than what is currently supported by public funding. It doesn't seem right to be spending large amounts of public (and private) funding to incubate yet another gateway. We are all trying to open the system these days after MeToo, Indigenous Reconciliation, and so much more, not close it right back up again. We need better systemic solutions that empower not dozens or hundreds of artists once in a while, but tens of thousands of artists every year throughout their entire careers. Co-op models and B-Corps seem so much more relevant and appealing from this point of view… whether it is for access to/ownership of digital platforms, shelter/spaces, equipment/supplies or other. But if the donors/patrons/audiences aren't there in the first place, it really won't matter whatever ingenious models we come up with. We need to get down to basics. CVPs and other complicated wranglings of the system actually don't address the root causes of the problem. Our society just doesn't care (or know enough) about the value of creativity and artistic expression to be engaged with it. And yet when they are engaged, our systems of supporting and giving to artists are too convoluted, opaque, or hidden away inside inefficient systems to be discoverable and desirable tools for sustaining life-long interactions.
We aren't giving up on pursuing CVPs, at least not yet. But we no longer see them as any kind of silver bullet solution worthy of significant investment. The challenges of the industry are so incredibly immense and urgent. We can't wait a few years, a decade, or more hoping these platforms will one day become a reality at scale to the need. This is the reason ArtsPond has elected to focus on bringing cross-sectoral partners together to address systemic issues like gentrification (via Groundstory.ca) and digital transformation of arts services (via DigitalArtsServices.ca). At least in the shorter term it seems like they will have a much better bang for the buck. Meanwhile, other efforts to change the status quo like building policies for guaranteed income, universal daycare, improved arts education in the schools, and more could benefit from having active representation from a wider segment of the arts community.