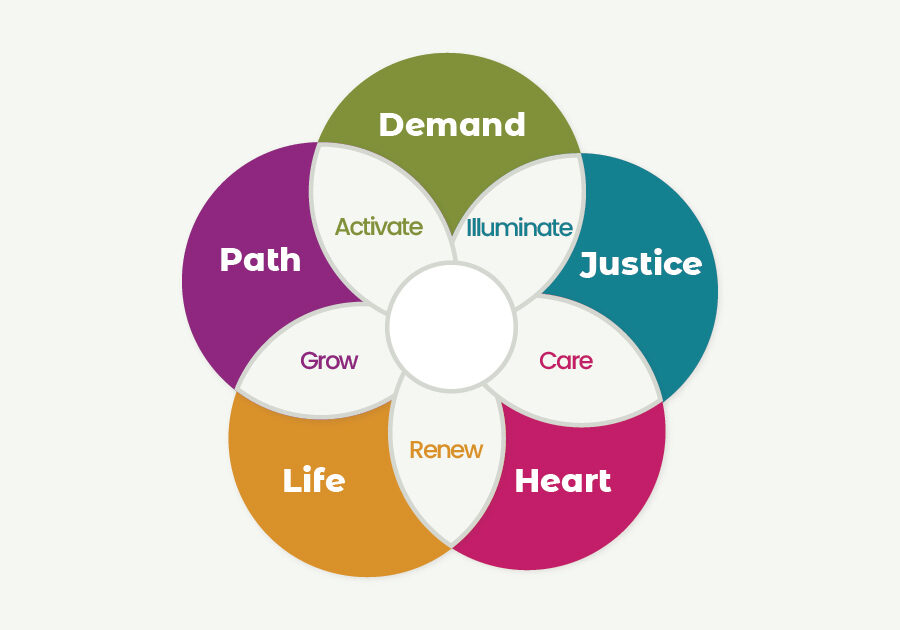 Found it! is an occasional blog series by ArtsPond Founder, Jessa Agilo.  In this article, Jessa shares some of the work that is currently in progress to prepare for the release of ArtsPond's upcoming second decade strategic plan for 2024-33. The original Venn diagram published on Sep 30, 2023 was updated on Oct 23, 2023.

How do you define the core principles, concepts, and language that lie at the heart of your organization's mission, programming, and more?
Without becoming outdated or irrelevant, how can these core concepts be secured to stand the test of time and continue to help define the focus of your work and desired impacts even as things change, deflate, evolve, and grow ?
How are all the complexities of these intentions shared with others in a clear and compelling way?
I have been dreaming a great deal over the past several years to try to define what these eternal seeds might look like for our organization and how to best describe them in an accessible way in the lead up to our tenth anniversary in 2024.
While very much still a work in progress, the preview illustration shown below feels meaningful to us as we work towards identifying foundational seeds that can underpin some of the focus of our upcoming second decade strategic plan for 2024-2033.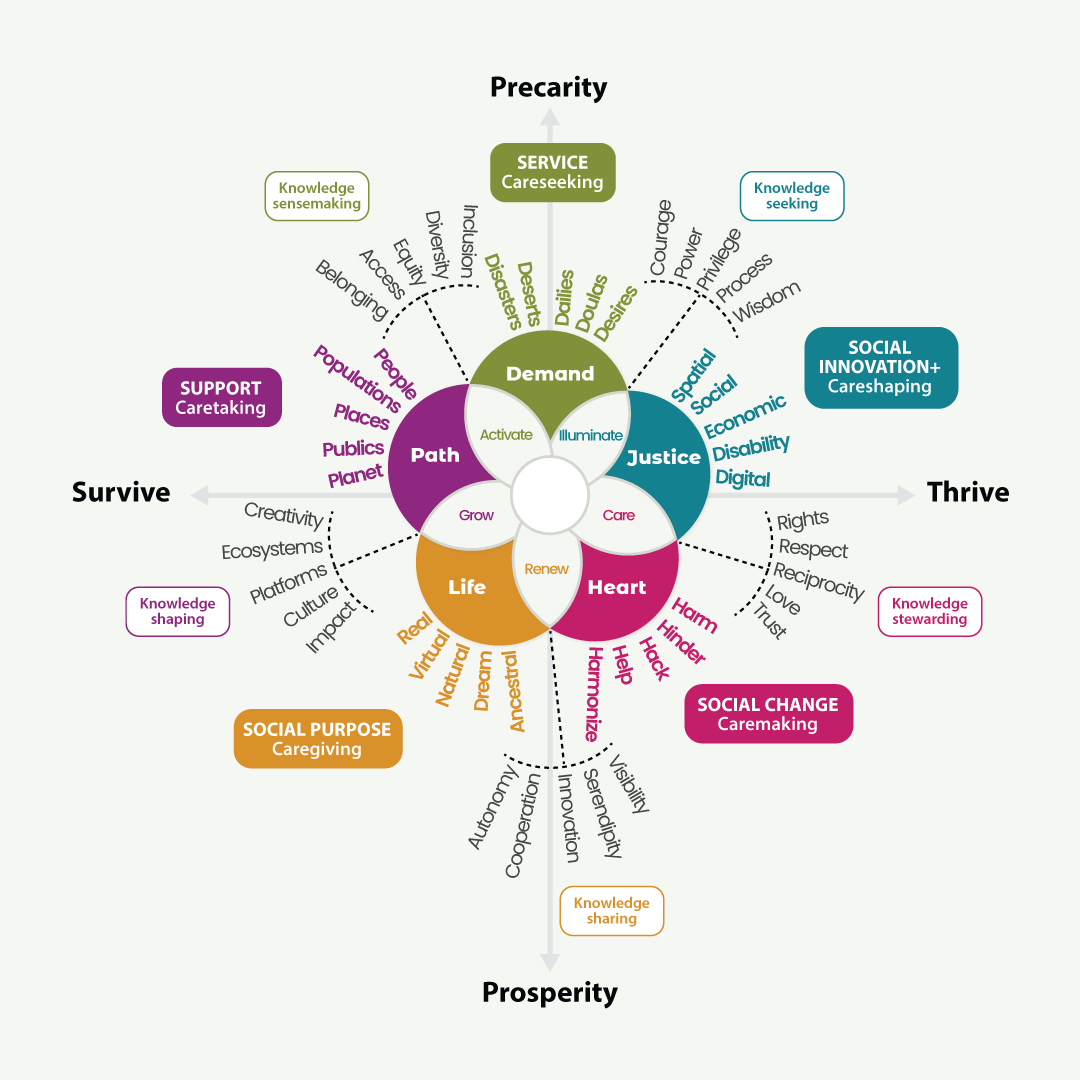 By no means is the illustration meant to be exhaustive or complete. It is not recommended or meant to be adopted by anyone else at the present time. However, our values of transparency and cooperation lead us to share some of our behind-the-scenes thinking while they are still living and breathing. Have questions or thoughts that percolate as result of what you are seeing? Please share! I could write pages of material to describe what all of these words mean to us but for now the image will mostly be asked to hold its truths alone.
For a little context, our challenge for this particular illustration of a Venn diagram was to choose tiers based on groups of five, including:
Central open circle, currently not defined with any text but thought of broadly at the moment as Purpose
Five core inner concepts (we chose: Justice, Heart, Life, Path, and Demand)
Maximum of five children for each core inner concept (for example, under Demand, we chose the five children of: Disasters, Deserts, Dailies, Doulas, and Desires)
Five additional intersecting leaves that conjoin the core inner concepts together (currently: Illuminate, Activate, Grow, Renew, Care)
Five children for each intersecting inner leaf (for example, under Grow, we chose the five children of: Creativity, Ecosystems, Platforms, Culture, and Impact)
Five outer core synergies that are linked with the core inner concepts (we chose: Careseeking, Caretaking, Caregiving, Caremaking, and Careshaping) and five related perspectives (Services, Support, Social purpose, Social change, and Social innovation+)
Five additional outer intersecting leaves that are linked with the intersecting inner leaves (Knowledge seeking, Knowledge sensemaking, Knowledge shaping, Knowledge sharing, Knowledge stewarding)
Two contrasting pairs in the background, including Precarity-Prosperity on the vertical axis, and Survive-Thrive on the horizontal axis.
A text outline of the full Venn diagram follows.
CORE INNER CONCEPTS (counter-clockwise from the top)
Demand (Green)

Disasters
Deserts
Dailies
Doulas
Desires

Path (Purple)

People
Populations
Places
Publics
Planet

Life (Orange)

Real
Virtual
Natural
Dream
Ancestral

Heart (Red)

Harm
Hinder
Hack
Help
Harmonize

Justice (Blue)

Spatial
Social
Economic
Disability
Digital
INTERSECTING INNER LEAVES (counter-clockwise from the top)
Illuminate (between Justice and Demand)

Courage
Power
Privilege
Process
Wisdom

Activate (between Demand and Path)

Inclusion
Diversity
Equity
Access
Belonging

Grow (between Path and Life)

Creativity
Ecosystems
Platforms
Culture
Impact

Renew (between Life and Heart)

Autonomy
Cooperation
Innovation
Serendipity
Visibility

Care (between Heart and Justice)

Rights
Respect
Reciprocity
Love
Trust
OUTER CORE CONCEPTS (counter-clockwise from the top)
Service / Careseeking (with Demand)
Support / Caretaking (with Path)
Social purpose / Caregiving (with Life)
Social change / Caremaking (with Heart)
Social innovation+ / Careshaping (with Justice)
INTERSECTING OUTER LEAVES (counter-clockwise from the top)
Knowledge seeking (with Illuminate)
Knowledge sensemaking (with Activate)
Knowledge shaping (with Grow)
Knowledge sharing (with Renew)
Knowledge stewarding (with Care)
BACKGROUND
Precarity – Prosperity (vertical axis)
Survive – Thrive (horizontal axis)