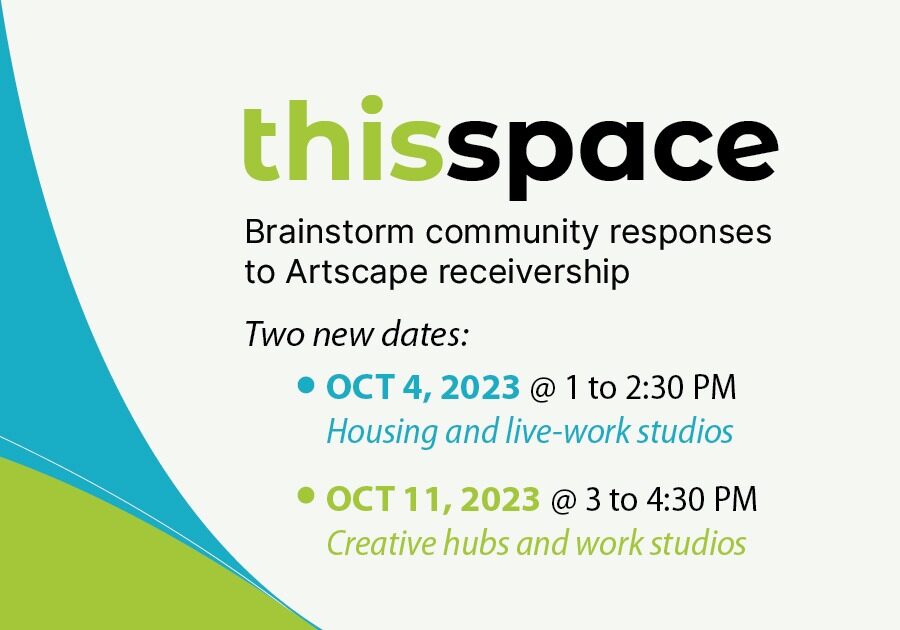 This Space 2+3: Brainstorm community responses to Artscape receivership
Session #2: Housing and live-work studios
October 4, 2023, 1 to 2:30 pm Eastern
Via Zoom | Register
Session #3: Creative hubs, work studios, and other spaces and activities
October11, 2023, 3 to 4:30 pm Eastern
Via Zoom | Register
Can't make the meetings? Join our mailing list for future updates.

Save the dates. Are you an emerging, small, mid-sized or established building or community operator, tinkerer, owner, consultant, caregiver, creator, or changemaker in arts and culture? Do you have an interest to gather informally as a cohort with other like-minded individuals and organisations to discuss challenges, opportunities, and potential solutions that may help tackle the impacts of Artscape's receivership particularly on gig workers in Toronto?
As a follow-up to the first brainstorm on September 18, 2023, all community members are welcome (including funders but excluding media) to join either or both of two additional sessions on October 4, 2023 (focus on housing and live-work studios) and October 11, 2023 (focus on creative hubs, work studios, and other spaces and activities within Artscape's portfolio). These 90-minute sessions including a bio break will dive deeper into problem-solving, information sharing, and working toward building consensus on positive actions to take in response to this crisis. ASL and CART on request. More detailed agenda outlines and summaries of the first meeting to follow.
These meetings are possible thanks to annual operating funding from Ontario Arts Council.