Event Navigation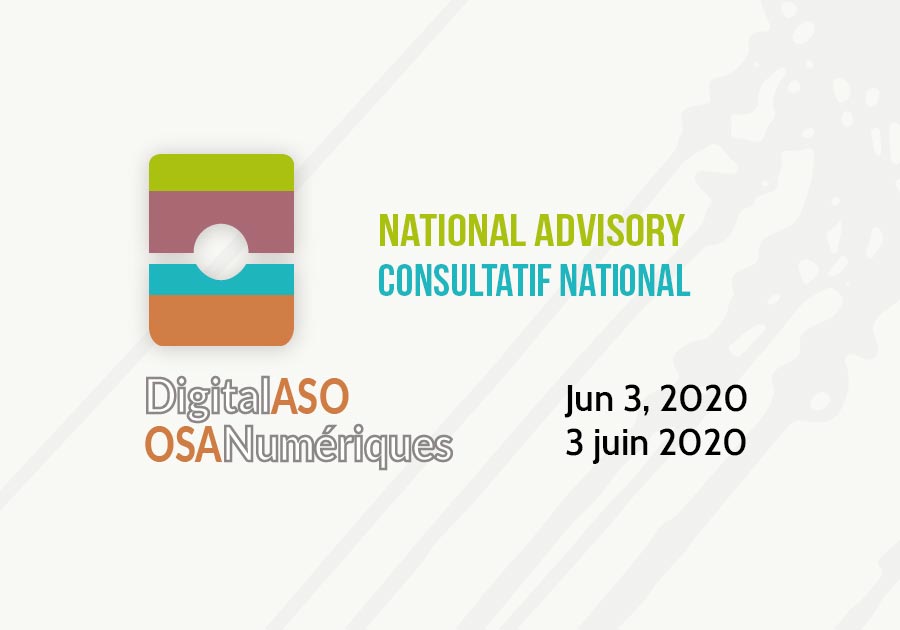 National Advisory (June 2020) / Consultatif national (juin 2020)
June 3, 2020 @ 12:00 pm

-

1:15 pm

EDT
Version française ci-dessous.
Are you committed to the cultivation of a shared national strategy for empowering digital justice in Canadian arts and culture? DigitalASO National Advisory Sessions are for you!
Taking place from 12 noon to 1:15 pm Eastern on First Wednesdays (June, and August to December 2020) and Second Thursdays (July) of the month, all National Advisory sessions are free and open to all arts and culture workers and their supporters.
All sessions take place via Zoom and support both official languages with captions for the hearing impaired, and English to French, French to English, and ASL live interpretation services available upon request.
Advisors will provide input and feedback on DigitalASO's vision, mandate, public engagement activities, networking, research, governance structures, and other topics of interest to ensure the project is a success.
Register for the June 3 session only via Zoom.us, or register at the same time for multiple events in 2020 at DigitalASO.ca.
—
Êtes-vous engagé à cultiver une stratégie nationale partagée pour renforcer la justice numérique dans les arts et la culture au Canada ? Les sessions consultatives nationales de OSANumériques sont pour vous !
Ayant lieu de 12h à 13h15 heure de l'Est les premiers mercredis (juin et août à décembre 2020) et les deuxièmes jeudis (juillet) du mois, toutes les sessions nationales de consultation sont gratuites et ouvertes à tous les travailleurs du secteur des arts et de la culture et à leurs partisans.
Toutes les sessions ont lieu via Zoom et soutiennent les deux langues officielles avec des sous-titres pour les malentendants, et des services d'interprétation en direct de l'anglais vers le français, du français vers l'anglais et de l'ASL sont disponibles sur demande.
Les conseillers fourniront des contributions et des commentaires sur la vision, le mandat, les activités d'engagement du public, le réseautage, la recherche, les structures de gouvernance et d'autres sujets d'intérêt de OSANumériques afin d'assurer la réussite du projet.
Inscrivez-vous pour à la session du 3 juin uniquement sur Zoom.us, ou inscrivez-vous en même temps à plusieurs événements en 2020 sur DigitalASO.ca.